by Webnme2 on Dec 31st 2010 in Social Media
While Web 2.0 has been around for awhile and social networking is not new, the explosion in social media usage in 2010 is extraordinary. Some social media sites date back to 1995; e.g. classmates.com and the real boom in new sites was probably in 2005. However, it is only recently that the usage of social media sites has come to dominate our online habits. (Social Networking Dominates Our Time Spent Online – Summarizes a Nielsen study showing that 22.7% of online time is spent on social media sites compared with say 8% for email). And while the boom in new sites was 2005, none of the top ten sites then were social media sites. Today six of the top ten sites are social media sites according to http://socialmediastatistics.wikidot.com/usage-levels.
And there are some absolutely amazing statistics on social media. Probably what stands out is that we are now measuring in terms of billions of shared items and hundreds of millions of users. One really interesting list of statistics is 20+ mind-blowing social media statistics revisited
Visualizing social networking's size and breadth is difficult and so it was a hoot to see the first really great effort to map online communities in August this year.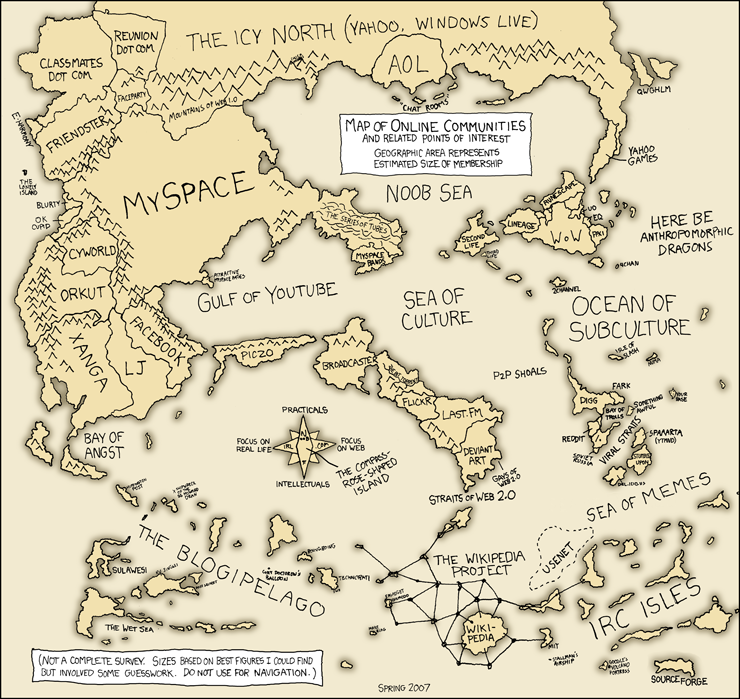 The folks at Flowtown took this visualization idea a step further to produce this stunning map of social networking in 2010 with relative sizes based on usage rates. The result is mind-boggling.

Flowtown – Social Media Marketing Application